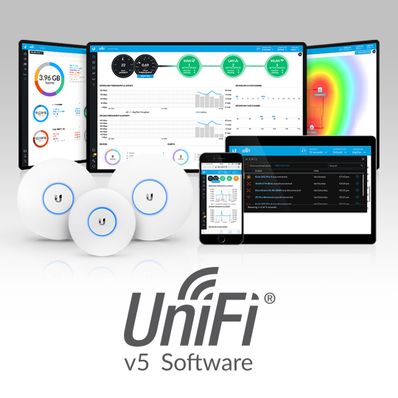 Please be advised that both multi-tenanted and single-tenanted UniFi controllers hosted in the Lightspeed cloud have been upgraded from version 5.12.66 to version 5.14.23. We skipped 5.12.72 (not worth) and 5.13. due to a long buglist. This is the current stable release for UniFi SDN Controller 5.14, which is Ubiquiti's current stable release branch.  We have retired the 5.12 series across all customers.
Improvements
Move Analytics & Improvements toggle to UniFi OS settings (applicable only for UniFi OS systems).
Disable DnsFilterAlert and IpReputationBlock events by default.
Add support for UXG-Pro.
Add Switch Port anomalies.
Add ability to report incorrect WiFi score.
Set default DTIM interval to 3.
Auto-backup should be enabled by default.
Disable Element Adopt on Connectivity Disable.
Improve logging for Hotspot RADIUS.
Improve power cycle behavior for USP Plug.
Improve logging errors.
Update translations.
Update LCM idle timeout.
Add support for MongoDB 3.6. (5.13.23 from this bullet)
Auto-optimize enables Wi-Fi AI.
Prioritize busy times in Wi-Fi AI logic.
Update Hotspot 2.0 for WFA requirements.
Add VHT160 option for Japan.
Show client icons on DPI and statistics pages.
Improve SSID validation.
Improve support for USP Plug.
Allow adopting UBB only if both devices are connected.
Allow changing VHT mode for 5GHz radio on UBB.
Adjust speed test statistics to longer intervals.
Add LTS notifications.
Add Analytics & Improvements opt-in modal which is displayed post upgrade.
Add description of SNMPv3 security options.
Allow sending test emails via Cloud Email service.
Make timezones dropdown searchable.
Update IANA timezone database.
Update inter-VLAN routing Network form.
Remove OP mode from Port Profiles.
Add MAC column to Insights/Known Clients.
Update available IDS/IPS categories to lessen false positives and improve resource use.
Rename UDM-Beacon to UAP-BeaconHD.
Improve Property Panel for USW Leaf.
Handle LCM sync event notifications on UDM.
Support U-LTE on UDM devices.
Support WAN failover for UDM devices.
Add UDM boot sound checkbox.
Various fixes and improvements in Beta Settings.
Various performance improvements.
Update translations and add missing events.
Consolidated Bugfixes (5.13.32,5.14.22,5.14.23 – fixed in 5.14.22 unless otherwise specified)
Remove false positive errors from controller logs (5.14.23)
Fix overlapping firewall rule ID with port forward and DPI blocking enabled (5.14.23)
Do not include empty fingerprint stats.
Do not prevent sending push notifications for generated events.
Do not display false positive STUN warning.
Do not use guest wifi for element adoption.
Do not send unsupported push notifications.
Do not report UDM-Pro as client.
Do not send notifications for unknown events.
Include missing active clients in some statistics.
Prevent duplication of WAN2 network.
Handle Ip Reputation Alerts.
Fix operator frame not showing.
Fix operator login URL.
Fix wrong hotspot URL redirects.
Fix incorrect admin invite emails.
Fix the case when STP is enabled on the port however UI is showing it is being disabled.
Fix UXG syslog going to incorrect IP/FQDN.
Fix reporting traffic statistics for port 2 and 11 on UDM-Pro.
Fix infinite redirects when trying to authorize guest on UAP.
Fix firewall rules for Guest Portal on UDM.
Fix creating hotspot operators.
Fix saving tags.
Fix batch delete vouchers.
Fix saving configuring for USP Plug.
Fix USP Plug adoption.
Fix USP Plug power cycling.
Fix crashing WiFi AI page in Beta Settings.
Fix Error during processing Informs.
Fix can't complete Network setup because of missing max Auto Backup files number.
Fix adoption of Protect cameras over Element Adoption SSID.
Limit number of pending devices to not allow DoS attack.
Limit Auto Backup files to 100.
Speed tests should not block live-updates.
Fix DPI statistics inaccuracy. (5.13.32)
Fix Port Forward Accounting Rules to not override User-Defined Rules. (5.13.32)
Fix provisioning issues when routes contain IPv6 addresses. (5.13.32)
Omit provisioning DHCP relay config where there are no DHCP server IPs configured. (5.13.32)
Provision PD correctly for UDM LANs pointing to WAN2. (5.13.32)
Provision UDM-Pro SFP+ port with the correct PVID in all cases. (5.13.32)
Fix adoption of Protect cameras over Element Adoption SSID. (5.13.32)
Do not show warning configuration has changed on admin invite.(5.13.32)
Fix calculations for Radio Retry Rate and Dropped Percentage. (5.13.23 from here)
Fix and improve Hotspot RADIUS accounting support.
Fix unable to set LAN2/WAN2 port to WAN2 on USG3.
Fix grayed out load balancing for USG.
Fix multi-port port forwards missing ports.
Fix provisioning configuration.
Fix missing permissions for admins in mobile apps.
Fix RADIUS Mac Authentication on UAP.
Fix reordering firewall rules.
Fix Guest Portal pre-authorization rules on UDM devices.
Fix incorrect version redirect during UDM setup process.
Fix displayed WAN IP under Networks for UDM devices.
Fix firewall rule provisioning on UDM devices.
Fix Guest Portal pre-authorization rules on UDM devices.
Fix uplink-monitor crash on UDM devices.
Fix WAN failover when using a PPPoE WAN on UDM devices.
Fix Namecheap DDNS support on UDM series.
Fix Switch Port Profile selection on the UDM-Pro property panel.
Fix issues with Element Adoption.
Fix device disconnected status if Element Adoption is enabled.
Fix handling uplink stat for USP-Plug.
Fix missing UBB LED configuration.
Fix missing UBB link icon.
Fix static DNS for U-LTE failover.
Fix U-LTE redirect URL to unifi.ui.com.
Fix rendering of U-LTE unreachable button.
Fix unnecessary U-LTE device status unavailable notice.
Fix validation to allow up to 6 ports for LACP on compatible UniFi Switch devices.
Fix firmware cache for USF5P, USPRPS, US8.
Fix false Disconnected status due to early timeout during device upgrade.
Fix restoring large backups.
Fix restore to default issue on Windows.
Fix upgrade firmware from controller.
Fix import of Site.
Fix busy state for buttons.
Fix missing IPS widget on Dashboard.
Fix Rx/Tx columns on the Device page.
Fix displaying ports in the Utilization column at the Device page.
Restore virtual device images on Map page.
Fix client count in Insights Statistics page.
Fix saving firewall rules in Settings.
Fix Last 1 Hour filter for Past Guest Authorizations.
Fix empty neighboring AP list.
Fix broken Analytics in Hotspot Manager.
Fix redirect when choosing Enable Threat Management in Beta Settings.
Fix missing images in Beta Settings.
Fix updating status of Network controller on network.unifi.ui.com.
Fix Debug Terminal during Remote Access.
Fix site switching during Remote Access.
Fix Wi-Fi AI page crash during Remote Access.
Fix enabling Remote Access if 2FA is enabled for SSO.
Fix missing Events for Auto Optimize feature.
Fix Push Notifications for many admins with the same preferred language.
Fix missing Backup and Restore actions for Cloud Controllers.
Fix inconsistent vap error in controller logs.
Fix broken WebSocket connection in UI.
Fix downloading device info.
Remove non-functional Restart Device permissions and allow for Site/Super admins only.
Skip analytics provisioning on old firmware to mitigate unnecessary downtime.
Regenerate self-signed certificates for existing installations to meet Apple's new rules (see Apple's article HERE).